Episodes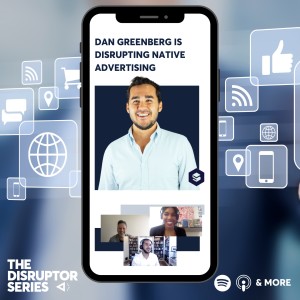 Tuesday May 18, 2021
Tuesday May 18, 2021
"If you believe you need to earn attention as a brand,
it completely changes the creative process"
In an era that will ultimately mark the 'death of cookies', Dan Greenberg CEO & founder of Sharethrough - a platform that powers ads for big publishers like Forbes, CBS and Time - is focused on helping advertisers drive effectiveness with tactics aligned to the ways human brains actually perceive and want to receive digital ads.  Sound interesting?  We thought so too.
Get More From The Disruptor Series:
Subscribe to our Newsletter: "Dose of Disruption"
Visit our Website: www.DisruptorSeries.com
Follow us on Social Media:
Credits:
Hosts - Rob Schwartz & Asha Davis
Intro/Outro Voiced by Sophia Barnett
Producer - Rashida Peters
Executive Producers - Natalie Zeller / Rashida Peters / Asha Davis
Audio Engineer/Sound Design - Corey Bauman